Remove Screen Concepts
Back to index...

The Remove Screen lets you change two of the green screen removal systems settings. The first slider will let you set how agressive the system is about removing black shadows on the screen. If you set it low shadows (Dark areas on the screen) will go away. If you set it too low, black hair and other dark areas will also go away.

The second slider will restore and remove green. Slide it to the right and some of the green in a shirt will come back. Slide it too far to the right and unwanted green will come back in the hair. Slide it to the right and any green tint, called spill, will be removed. If you slide this slider too far it can cause some parts of the image to turn pink.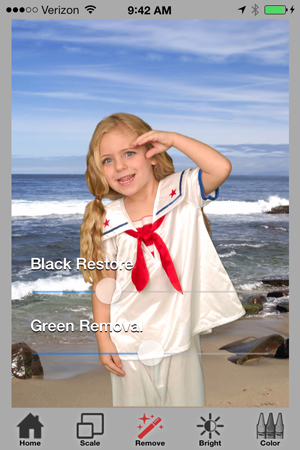 Controls:


Black Restore Slider- this slider will determine how aggressive the app will be about removing black areas

Green Removal Slider- this slider will determine how aggressive the app will be about removing green areas